Welcome to Palm Grove


Upon arrival from the far north, the cold air softens with a blanket of warmth as you approach the beckoning sun and white sand beaches of Florida's west coast. There, nestled among the mangroves and wild life, in a quite, relaxing cove of the Manatee River lies a perfect vacation haven, Palm Grove.


Here, the circling skies paint the sunrise with beautiful shades of yellow and orange, casting a glow on the surrounding landscape. Cruising gracefully - as if in flight, sailboats make their way through the great mouth of the river to the Gulf of Mexico - surely in search of some childhood dream, at long last attainable. As the soft waves cover the shores surrounding Palm Grove. A settling feeling of comfort envelopes the peaceful hearts of those who call Palm Grove home. With so many choices for enjoyment such as; fishing, golf, major league sports, dancing, dining and social fulfillment - at such an affordable price, why not indulge in the experience?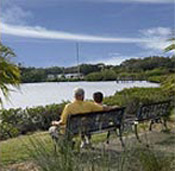 All rental properties are currently unavailable. Please check back at a later date for availability.